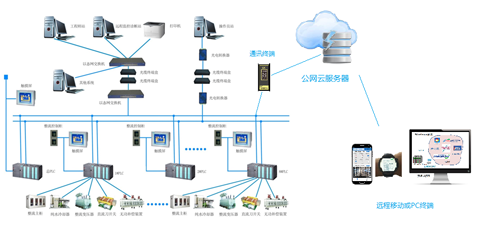 Data Communication Network Diagram
Characteristics:
1 .Realize the interconnection of industrial field equipment, control system, engineer station and general control room.
2. It has remote wireless and PC terminal on-line monitoring function, including mobile APP real-time monitoring and important information message reminding function.
3. Fieldbus communication methods such as MODBUS, MPI and DP are used between industrial field equipment and control system. The control system and engineer station adopt OPC, state network and other high-speed communication modes. Engineer station and general control room adopt industrial state network communication mode. The whole communication network system adopts a three-tier network architecture, and each tier sets its authority separately, which not only guarantees the real-time and stability of network communication, but also ensures the safe and reliable operation of the system.
4. Wireless terminals support 3G/4G/wifi/wired data transmission. The network is always encrypted and compressed data stream. Compared with the transmission module, it can not only save traffic data, but also fundamentally avoid the possibility of network layer monitoring to obtain network data directly.
5. Networking of the whole system is convenient. No matter the communication between field equipment and system, or between system and factory automation network, more than three communication protocols are supported. The system supports all kinds of mainstream PLC (Siemens, Mitsubishi, Omron, AB, Schneider, Delta, etc.). It can basically meet the needs of field bus communication system network.
In view of the situation that the enterprise monitoring center does not want to access the external network but wants to use the remote access of cloud services, the hardware of cloud security firewall can be loaded. The security firewall is an important barrier to guarantee the internal network security of the enterprise.