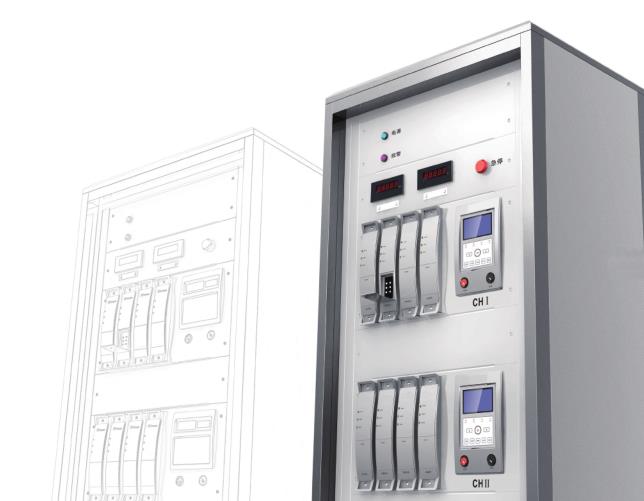 Introduction:
This product is mainly used in high power rectifier system used in chemical industry, metallurgy, military industry, scientific research institutes and other fields, and including thyristor 6-pulse rectifier system, 12-pulse rectifier system or combination of 24-pulse rectifier system, 48-Pulse rectifier system, etc. It can also be used in high power rectifier system with high power diode saturated reactor.
Applied
High power thyristor rectifier control and monitor includes thyristor single cabinet of 6-pulse, 12-pulse rectifier system and combination of 24-pulse or 48-Pulse multi-pulse rectifier system.

High power diode rectifier control and monitor includes diode rectifier system with saturated reactor.
It has been applied to Chemical Engineering, Metallurgy, Military Industry, Nuclear Physics Research Institute and so on.


Product characteristics
☆ Industrial control computer (DSP + CPLD dual-core structure) + PLC measurement and control system architecture is adopted. Supports dual channel hot redundancy standby mode.
☆ The current stabilization accuracy can reach 0.1% and the response speed can reach US level. It has constant current, constant voltage and constant power operation mode.
☆ The trigger pulse is formed by CPLD which the hardware circuit is realized by software. It can realize both full digital software control and high reliability of hardware circuit, and has high resolution of control angle and high precision of adjustment.
☆ Frequency adaptive technology, alternating current and direct current double feedback technology and three-phase or single-phase synchronization technology are adopted. It has the functions of soft start, anti-shaking, data backup and fault self-diagnosis.
☆ system of optical pulse and electric pulse can be selected flexibly according to different requirements of the project.
☆ It has intelligent functions such as remote monitoring and fault analysis. Supports a variety of field bus and industrial Ethernet communications.
☆ It supports wireless data transmission and has the function of real-time monitoring system of remote mobile terminal (APP).

Technical parameters
| | |
| --- | --- |
| Name | Parameters |
| Working power supply | 380VAC/220VAC/110VAC/110VDC |
| Synchronized power supply | 220VAC,50Hz/110VAC,50Hz |
| Pulse mode | Double Narrow Pulse/PWM Adjustable Pulse |
| Pulse characteristics | Pulse front < 1us, pulse asymmetry < 0.1 degree |
| Current Stabilization/Voltage Stabilization Accuracy | Better than +0.2% |
| Communication protocol | Profibus-DP、Modbus、Industrial Ethernet |
| IP Grade | IP42、IP54、IP55 |