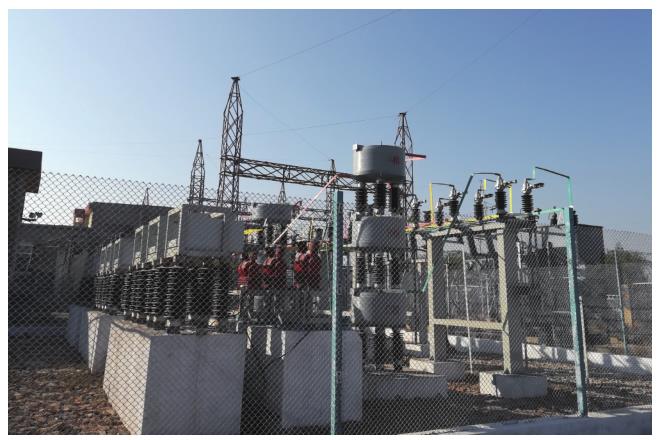 Application:
This product is mainly used in high-power rectifier system, parallel connection in the primary side or secondary side of rectifier transformer, or in the system of electrical equipment producing harmonic current, such as various converters, frequency converters, arc furnaces and other non-linear electrical equipment. This product can improve the power factor of the system and filter out high-order harmonics to reduce the loss of transmission lines and rectifier transformers, to improve the efficiency of power supply and improve the quality of power grid.

Product characteristics:
1. With complete system design and simulation capabilities, with advanced detection means and system design and simulation capabilities, it can simulate different operating conditions, reasonable selection of system and product parameters.
2. It has real-time state display function, including power factor, voltage, current, reactive power, active power and other parameters.
3. Perfect protection measures include over-current, short-circuit, over-voltage, under-voltage protection and phase-gap protection. Each switching unit drawer is equipped with a plastic case circuit breaker, which can separate short-circuit current of the power-off capacitor, thereby improving the reliability of the device.
4.This product has the characteristics of large capacity of single system. With modular design, each circuit is designed independently, with compact structure and reasonable layout. It is especially suitable for small installation space. Because different parts are divided into different areas, which can reduce and the operating environment temperature of capacitors and other components.
5. It has the characteristics of easy maintenance. It is easy to operate, maintain and overhaul by using pull-out design structure. If a single group of overhaul is needed, the other groups should run normally and improve the efficiency .
6. With the characteristics of high safety and reliability. Special ventilation design, vertical natural cooling and horizontal strong cooling measures are adopted, especially for the occasions with long running time and high ambient temperature.

Technical parameters


| | |
| --- | --- |
| Name | Parameters |
| Type | FC / SVC / SVG |
| Working voltage | 0.45 ~ 36KV |
| Installation Method | Indoor/outdoor |
| Capacity | 84 Mvar |
| Cooling method | Self cooling |
| Protection function | Corresponding protective measures such as over-current, over-voltage and non-full-phase . |