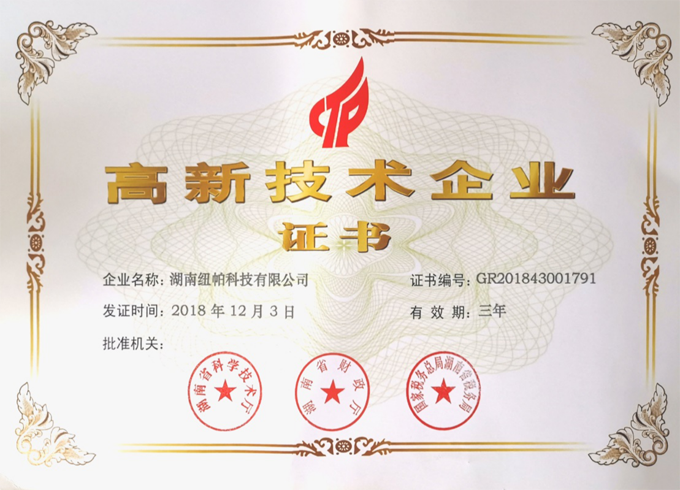 High-tech enterprises are an important basis for the development of high-tech industries, a fresh force for adjusting industrial structure and improving national competitiveness, and play a very important strategic role in China's economic development. The application for recognition of high-tech enterprises has strict conditions and restrictions. Since May 2018, our company began to organize and collate various declaration materials. It lasted nearly five months. With the persistence and efforts of the relevant employees of the company, relying on our excellent R&D ability, reliable product quality and complete intellectual property support materials, our company has passed the assessment of the Recognition and Management Leading Group of the National High-tech Enterprise at one time. Our company was identified as the national high-tech enterprise in Changsha in 2018.


The identification of high-tech enterprises is a comprehensive evaluation and identification of the company's core independent intellectual property rights, transformation ability of scientific and technological achievements, organization and management level of R&D, growth indicators and R&D talent structure. It can be considered that high-tech enterprises have excellent scientific and technological talents and R&D team, and strong competitiveness. This award is the full recognition of the R&D and technological innovation ability of our company by the state.
According to relevant regulations, our company can not only reduce and exempt enterprise income tax, reduce corporate tax burden and improve economic efficiency, but also have a positive impact on enhancing our reputation and credibility, so that the company has the opportunity to win more countries in the process of innovation and development. Technical and policy support will also provide the fundamental guarantee for the company to strengthen its software and hardware technological innovation and research and development of new technologies in the future.